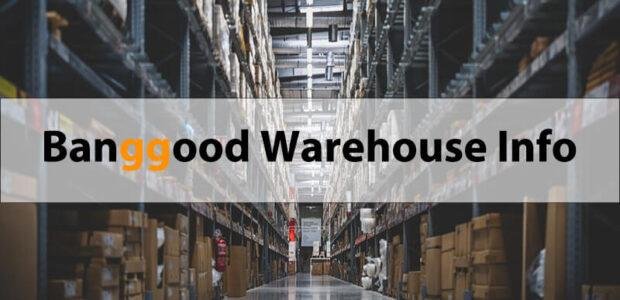 Compared to other global e-commerce companies, the excellent warehouse and logistics system is the biggest advantage of Banggood.
Although Banggood is headquartered in Guangzhou, China, they have as many as 30 warehouses worldwide (mainly in Asia, Europe, North America, and Australia), of which China, Czech, and Poland are the three largest warehouses.
If the item you bought happens to be in stock at your local warehouse, then congratulations, you can receive your package within 3-7 days (same speed as Amazon express, but only half the price of it).
If there is no local warehouse in your area, choosing the warehouse closest to your country can also effectively shorten the transportation time.
Therefore, this article has sorted out the addresses of all Banggood warehouses and marked them with Google Maps.
You can choose a suitable delivery location according to this article when you shop.
Fig1. Location of Banggood Warehouse
Banggood CN Warehouse
As a Chinese e-commerce company, Banggood has the most warehouses in China.
These warehouses are referred to as CN warehouses, and some warehouses will suffix with the city name. For example, CN-SZ means warehouse in Shenzhen; CN-GZ means warehouse in Guangzhou. 
No matter which city the warehouse is located in, they are almost all concentrated in Guangdong Province, the most economically developed province in southern China, so the shipping time from these CN Warehouses to your area is similar.
GWTR Warehouse
The GWTR warehouse is a global warehouse located in China and is secondary to Banggood's primary CN warehouses. If you order from the GWTR warehouse it will be packaged and sent directly from China. In other words, there is no difference between CN Warehouse and GWTR Warehouse.
Banggood HK Warehouse
HK refers to Hongkong Warehouse. Hong Kong is close to Guangdong Province and is a world-famous trading port. The shipping time of HK Warehouse will be much shorter than that of CN Warehouse.
Banggood US Warehouse
US Warehouse is located in Chino, California, it serves customers from North America and South America.
Banggood EU Warehouse
Since Banggood's main customer groups are from Europe, they have deployed a large number of warehouses in Europe to improve its competitiveness in the European market.
Below are the locations of some warehouses and their abbreviations, of which PL and CZ are the two largest warehouses:
FR Warehouse located in France
UK Warehouse located in England
ES Warehouse located in Spain
RU Warehouse located in Russia
PL Warehouse located in Poland
CZ Warehouse located in Czechia
Banggood AU Warehouse
AU Warehouse, located in Australia, was set up in 2017. People living in Australia and New Zealand can enjoy faster shipping speed if they buy items stored at the AU Warehouse.
Buy from the Banggood local warehouse
When browsing this page, Banggood will identify your country by IP address and display the products in the local warehouse to you.
Will the prices vary from warehouse to warehouse?
The price of the same product in different warehouses is also different.
The warehouse with less inventory may have a slightly higher price.
Some people may think that products purchased from China warehouses are shipped more slowly and therefore should be sold cheaper. But in fact, warehouses outside China are more likely to form a backlog of inventory, and in order to speed up sales, these will have cheaper prices.
How to find Banggood coupons for different warehouses
Please be sure to try our Banggood Coupon Database, which lists thousands of product pictures, discount prices, warehouse, and free discount codes for you.
You only need to enter the name of the product you want to buy in the search box to find the corresponding coupon.
If you want to browse the coupons of any warehouse, just enter the corresponding abbreviation of the warehouse in the search box (eg: CN/HK/CZ/PL/US/FR, etc.).
| Abbreviation | Warehouse Location |
| --- | --- |
| CN, GWTR | Guangdong, China |
| HK | Hongkong SAR, China |
| US | Chino, CA, United States |
| FR | France |
| UK | United Kingdom |
| ES | Spain |
| RU | Russia |
| PL | Poland |
| CZ | Czechia |
| AU | Australia |
If you can not find the coupons you want, try our Banggood Sitewide Coupons and take 10%-20% OFF on your orders.