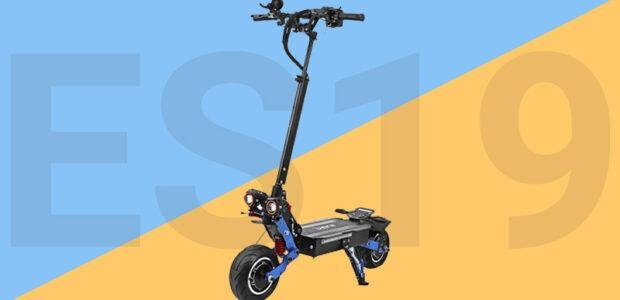 Pros
Soft Suspension
Great Driving Condition
Steering Damper Included
Cons
Short Handlebar
Tires Are Too Wide
Adjustable Stem not Stable
10% OFF Coupon Code:
BG5451f9
Expires: 2022-12-31
Save with Laotie ES19 Coupon
If the coupon code above doesn't work, please try the coupons from the following pages:
Laotie ES19 Electric Scooter Basic Information

Size

(length, width and height)

Body Size: 130x126x28cm

Folding Size: 127x51x28cm

Weight

52 kg / 114.6 lbs

Peak Power

3000W * 2

Tires

10*4.5 Inch Inflation Wide Wheel

Motor

Brushless DC Hub Motor * 2

Max Load

200 kg

Battery

60V/38.4Ah 21700 Lithium Battery

Running Range

Dual motor 60-70 km, single motor 135 km

Max Speed

90 km/h ( 55.9 mph )

Speed Limit Switch

30% – 100% of max speed

Incline Range

Max 50°

Brakes

Dual Zoom Oil Brake

Accessories

Ultra bright LED headlight

Remote alarm system

No License Plate Mount
If shipped from the Poland warehouse, within 3-5 days to the rest of Europe (Hungary).
However, I have seen that some people on Youtube received their packages after 40-60 days, I recommend buying from the nearest Banggood warehouse so that you can get your scoot earlier.
The outer packaging is an ordinary cardboard box, which at least shows that I did not spend too much money on packaging :D.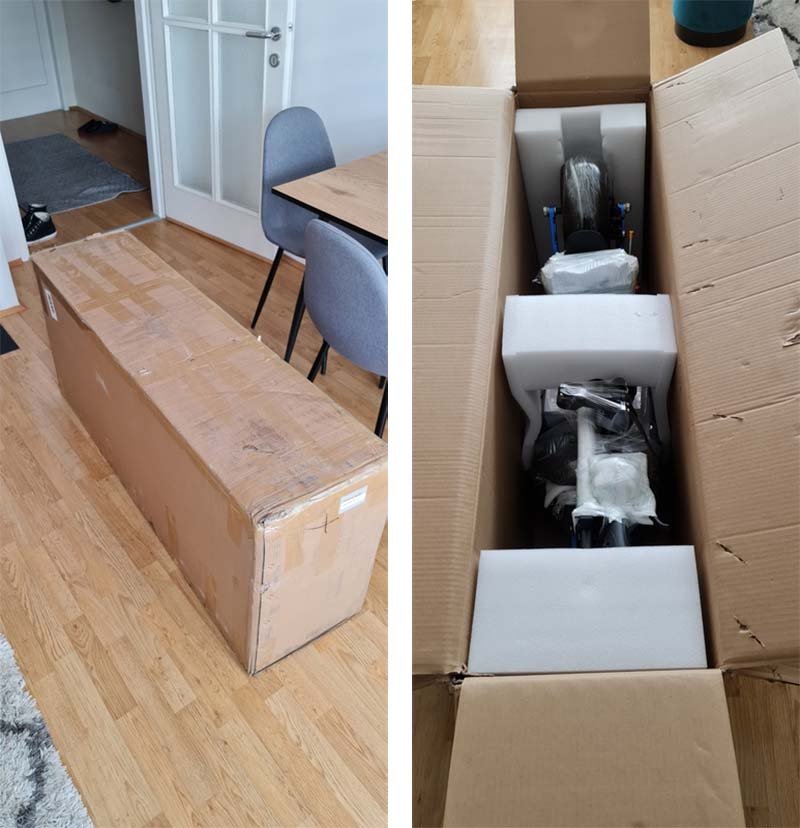 The scooter is just beautiful, like a blue beast. The whole body is full of metal texture, looks strong and powerful.
What I pretty like is the rear plastic mudguard.
It has a carbon fiber look, which is pretty dope. It can protect you from the splash.
Inside the deck, we have a 38,4Ah battery pack, which is the same battery as Laotie Ti30. And we have 2 × 45A controllers and a lot of space for wires etc.
Very good is that in front is foam protection which protects the battery from screw nuts that hold the front neck.
But the Chinese did not put protection from side screws (which hold the kickstand) and you can put there some hard foam shield to protect the battery from nuts.
Anyway, the battery is placed and glued very well, without moving.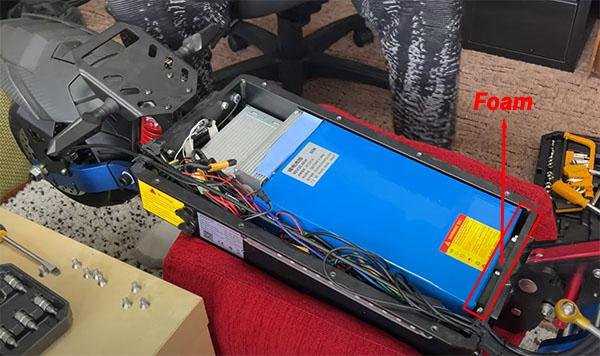 Inside the ES19, we have two engines, one in front and one in back, each has 3000W on the peak.
On the back area of the scoot, we have 2 charging ports, and the e-scooter comes with 2 chargers with 2A which has an EU plug, and it's great. Of course, you can charge it with a 5A charger, which you can easily buy on Banggood.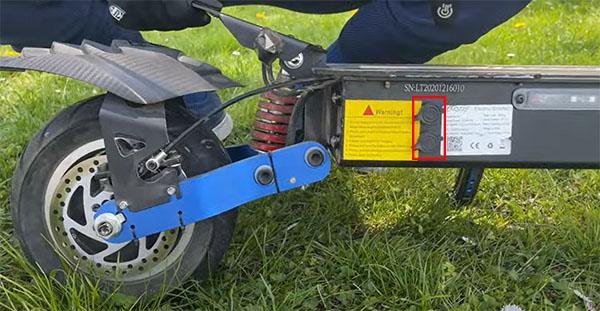 Front-System of Laotie ES19
Let's go to the front.
Here we have the steering damper which is designed and fancy, made by Laotie. I really like it.
You can adjust the stiffness damper itself, I recommend stiffing it at a higher speed.
We have hydraulic brakes by ZOOM and a spring suspension. The benefit of this suspension is, that you can easily replace it for better, maybe air suspension or higher quality spring suspension, options are a lot.
If we have a look in front, we have typically angel eyes lights which have 3levels of lighting.
In the middle we have a loud horn with 130dB. It is definitely loud and cars really do not like it at all :D.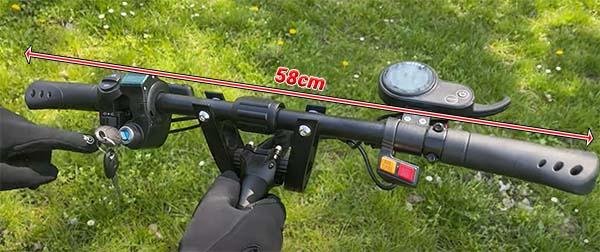 If we are moving slightly up, there is a middle stem as you know. You can adjust it to fit your height, I am 190cm tall with shoes on and I set it in the middle. You can increase or decrease as you need.
And let's move to handlebars, the same design as other Laotie scoots.
The foldable handlebars have 58cm length. It's short, and I guess is not suitable for that type of big scoot.
From the left, we have light buttons, control of rear turn signals, horny, and lights themselves.
Here is a voltmeter display, which shows us the lever of the battery.
Laotie ES19 works as a locking scoot, and nobody can steal the scoot easily.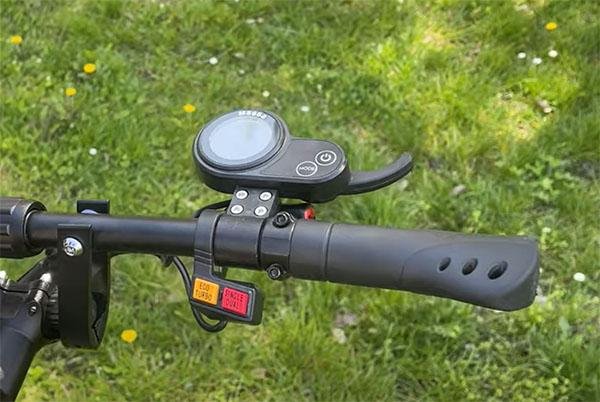 When we move to the right, we have here well known ECO/TURBO switch and a SINGLE/DUAL switch and an improved display which works very well, and you can set all settings you need and want.
The speed of ES19 is pretty impressive.
It can reach a max speed of 86,4km/h which is pretty enough for a scooter and standing on it definitely needs some skills.
In this video, you can see how fast it can be.
Except for the speed, many people are interested in the range.
I tried it several times and many ways.
For the ECO range, I did 105km. Even though it has the same battery as Laotie Ti30, I reached about 10km less.
Probably it happened because it was a bit warmer case of testing this scooter. But I personally think that it was also due to better controllers which gave smoother acceleration and maybe it has better communication with BMS.
When I tried a faster ride, with speeds around 35-70km/h, I drained the battery until 60km but still remains around 10-15%battery, maybe for 10km of ECO ride.
I am going to thumb up for this scoot, cause if you want to go really fast, you can ride at least 50km.
If you want to ride in third gear and 70kmh+, you probably drain the battery until 40km, but the range itself is a big plus for this scooter.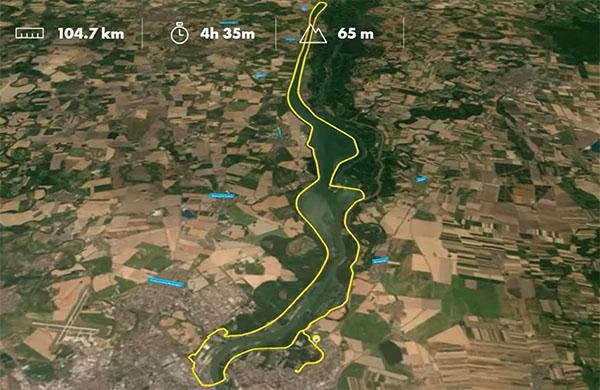 If I have to speak about benefits, then the riding conditions are the biggest benefit.
As I talked before, it has perfect acceleration dosing at every speed, motors are insanely quiet and up to 50-60 kph is almost not possible to hear it. So if you want to ride invisible, then, this scoot is great. Really, this is the biggest benefit for me on this scooter, and riding with this scoot puts a smile on my face every time.
Another great benefit is range. I made it with my weight of around 110kg with my backpack on. I reached an incredible 105km!
105km ECO range and around 60-70km with a faster ride maybe 50km, with extremely fast ride I think that this scoot can handle enough, and thanks to this good suspensions will be stable almost in every type of terrain.
Finally, the Chinese understood, that scooters like this need a steering damper, and this one has a pretty fancy and stylish damper, and I really like it because you don't need to think where to drill or mount a damper any more.
I am really happy with the good hydraulic brakes ZOOM which has a 140mm disk brake. And I am really happy that brakes like this start to be standard in big electric scoots which increases security for riding and increases the value of this scoot.
Just like any other e-scoots, Laotie ES19 also has some minuses, but it's good to know that those minuses are less than more.
This e-scoot comes with a relatively soft suspension which I can move down with one leg. The benefit of this spring suspension is that it adjusts hardness and stiffness and makes it possible to modify it for better suspension, maybe air or spring suspension or any other on the market.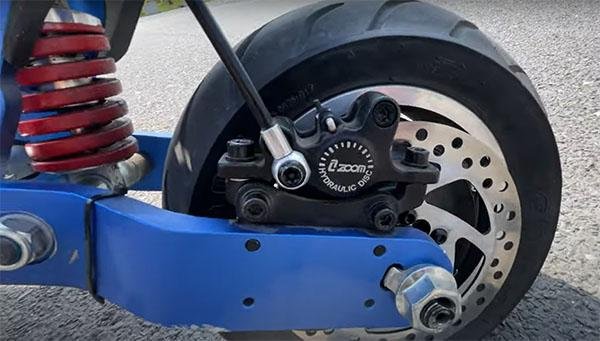 Honestly speaking, the biggest minus is the short handlebar which is foldable and short, only 58cm wide.
In case of a big e-scoot like ES19 with so much power, at high speed, you need a wider handlebar.
On my Dualtron Ultra 2, I have an 80cm wide handlebar and riding at higher speed or some offroad terrain is perfect.
I recommend putting a wider handlebar on it,  it is at the expense of carrying, but on the other side is better to have better stabilization and control.
Wide tires are bad for making a turn
Just as I thought wide tires would be an advantage, unfortunately, they are not.
It's basically the widest tire I ever saw on scoots like this, it has 115mm wide. But if you have a look in detail, you can see an aligned profile on the edges.
Its disadvantage is that when you want to tilt into turns then the e-scoot is trying to move into the basic position, and it's very uncomfortable to ride 50-60 kph and then you make a turn. Maybe it will be better to put shorter 110 or 100 tires and maybe with more quality.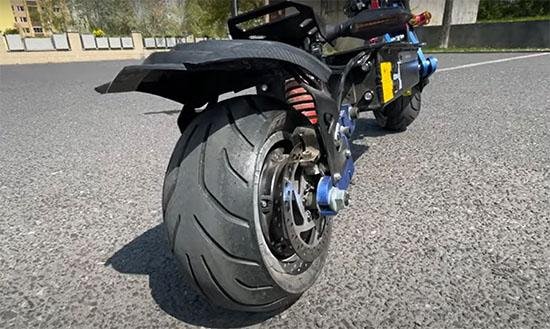 Adjustable Stem not 100% Stable
Very often it is not talked about, but this adjustable stem after some time, even if you tighten it properly, it starts to have some motion with about 0.5 cm from side to side.
This can be partially solved by unscrewing those 2 screws and putting out this, adding some rubber inside of the stem. and then tighten this mechanism back.
But this is not a permanent solution.
It's a pity when you like riding aggressively, those vibrations can move the stem a little bit, and suddenly you have your handlebar 5mm or 1cm out of the correct position.
The permanent solution could be a stem without adjusting and with the possibility to add some permanent risers which can be assembled and attached with screws.
I complained that my Dualtron has a very short stem, but when I put a riser on it, then is pretty strong and stable. So this is could be one of the solutions and riding is much more enjoyable.
What to Do Before 1st Ride
Before your first ride, it is important to make several things.
1. Look inside the deck and check if everything is ok
 Remove the screws and open the deck.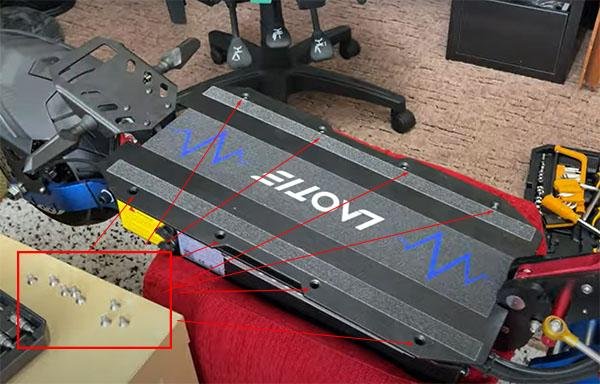 Make sure the battery inside is glued strongly and cannot be pulled out from the deck. You can try to add some foam to the gaps between components to reduce friction and collisions while driving.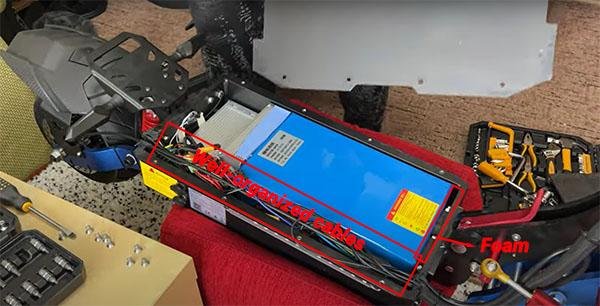 2. Consider aiming all screws and bolts before starting
So for P settings in this scooter, we have to press those two buttons on the steering for 2 sec.
And we have P1-P18, and they correspond to the following functions:
P1 is the brightness of the display.
P2 is MIle or KM setting.
P3 is battery voltage, which we have, 36,48,60,72…
P4 is an automatic turn-off setting
P6 is wheel diameter, I set this for 10,7″, and then is speed almost accurate via GPS, deviation is approx. 1 kmh.
P7 is the number of magnets, by default it is 30, and I set it to 32.

**P6 and P7 cause the speed to be identical to GPS

P8 is how much performance you want to get from this scooter, by default is 100%. If you set it to 50%, then from the max speed of 95kmH, you will get probably around 50kmH. So it's about the speed limit.
Next, we have the P9 setting, which is zero start/non-zero start. It's working, I tried it, but for Ti30 or ES18 it is not working. So thumb up for this display, because this setting is working properly.
P12 is an electronic brake, from 0 to 5. I set it to 3 and I am pretty fine because it's not stopping me too much and I am satisfied.
P16, ODO reset. Until now, I have driven about 100km.
P17 is the cruise control, 1 is turned on, 0 is turned off.
P18 is basically the speed shown on display. the range is from 50-150%. If you think you ride fast and want to go slower, I think this setting makes a good illusion.
Laotie ES19 is one of the best Chinese electric scooters I ever tested. You will enjoy it a lot, with many kilometers on range or speed. 
So, if you are waiting for this scoot, or you consider to buy it, make a decision as soon as possible so you can ride this season.
That was all of my Laotie ES19 review. I hope that you enjoyed it, and do not forget to bookmark our website to get more deals or information.
I will see you in the next article 🙂 Bye.