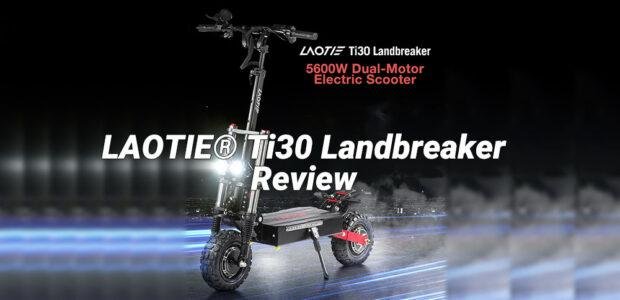 Superpower for medium and long-distance commuting
PROS:
Powerful Battery

Reliable Braking System

Stable and Solid
CONS:
A bit Heavy
Ugly LED Strips
Brutal Acceleration
Here is Laotie® Ti30 Landbreaker and it's Laotie's flagship product launched in October 2020.
This is the most confusing scooter I have bought so far and I will use my experience to tell you why.
Laotie Ti3 Landbreaker Basic Information

Size

(length, width and height)

Body Size: 130x126x28cm

Folding Size: 127x51x28cm

Weight

49 kg / 108 lbs

Peak Power

2800W * 2

Tires

11'' Tubeless Tire

Motor

Brushless DC Hub Motor * 2

Max Load

200 kg

Battery

60V/38.6Ah 21700 Lithium Battery

Running Range

Dual motor 60-70 km, single motor 140 km

Max Speed

85 km/h ( 53 mph )

Speed Limit Switch

30% – 100% of max speed

Incline Range

Max 55°

Brakes

Dual oil brake & Electronic brake

Accessories

Ultra bright LED headlight

Remote alarm system

No License Plate Mount
First of all, it is packaged in cardboard boxes instead of fancy full-color boxes. 
Look inside, three pieces of white foam hold the scooter's body. 
The packaging is a bit crude, but enough to protect the scooter from damage in shipping. 
Simple, but cheap enough!
When I pull the scooter out of the box, I was confused by how light it was.
In fact, I know I've got a battery of 38.4A inside, which I measure the capacity and it's easily over 37A so you could expect that this scooter will be stupid heavy because of this huge capacity.
But you are wrong this scooter is for me lighter than Boyueda with a smaller battery 28A and way lighter than Laotie ES18 so that's why I'm so confused because how it's possible 38A in this small light battery pack? How is that possible?
Laotie Ti30 looks a lot like Boyueda, a classic scooter style. The whole body is mainly black with red accents, just like a beast in the dark night.
I don't think it looks as simple and techy as the Xiaomi Pro2, but it looks wild and I think I like it.
Continue unboxing, I've got a Laotie Ti30 Landbreaker Scooter, 2 * EU Chargers, an Installation tool, 2 sets of remote keys, 2 * USA Plug Adapter, and a user manual. 
Nice and beautiful scooter so far, I was excited about its 38A powerful battery and road tires, can't wait to test its performance further.
| | |
| --- | --- |
| Package Include | Number |
| LAOTIE Ti30 Landbreaker Folding Electric Scooter | *1 |
| Charger | *2 |
| Installationg Tool | *1 |
| Remote Key | *2 |
On the face, you are greeted with a classic Boyueda aesthetic, not only because of the same design of the scooter body, but also because of the battery position, suspension design, headlight, and rear wheel fenders are raised upwards.
The full body size of Laotie Ti30 is 130x126x28cm or 51.2''x49.6''x11'', slightly smaller than Boyueda. The frame is the same as in other Chinese scooters such as ES18, Boyueda t85, etc.
No complaints about this frame it never breaks after my hard off-road, so it's quite nice for me.
The main materials of the scooter body are iron and aluminum, which has a black metal texture, and aluminum can make the body lighter.

Battery, crazy light, crazy small, and crazy capacity, 38A, with 2 * 2800W insane wheel motor and 45A controller.
I checked the battery capacity and is really over 37A but you have to wait for more articles till I will couple of times discharge and charge this battery and will do some proper working range tests, now let's go into the details.
How it works is easy. it's a matter of powering it on giving it a small push, then accelerating by using the acceleration knob on the steering wheel, and you're good to go.
When I start to drive this Laotie Ti30 scooter, I thought that scooter will go without me when I added full throttle.
Laotie says its max speed is about 53mph(85km/h), but I've got a top speed of only 49 mph (78 km/h). 
It was still fast and the steering steam was just like bented because I hold it so hard when I thought that I gonna felt down. 
This youtube video can help you to feel the crazy speed of Laotie Ti30 Landbreaker.
I tested the max running distance of Laotie ti30 on the city road. Provided the road is dry and the average speed is 15km/h, I can run 44.8 kilometers, which takes about 3 hours.
11 inch off-road tyre with this amazing insane tread, check this one.
The best about those is that the rim is fully moulded so we can easily use any kind of tubeless tires you like.
As you can see because of this rim which is not as wide as ES18, this tire is round which makes the scooter more stable compared to ES18. When the rim is wider and the tire looks like square so that could be why Boyueda is more stable than ES18 because Boyueda's tire is more round.
Besides, we don't need to use any extra cooler because this fully molded rim can easily spread the heat.
45A controller, the same crazy device as Boyueda, but even better because we can disable the motor braking system just set p9 to p0. I always set these values in all my scooters.
In Boyueda, the motor braking system was a little bit too much because I just touch out a bit brake lever and the front motor just almost stopped all the time and I crashed because of it a couple of times.
That's why I always disable the motor braking system because i like to feel the brakes.
So those controllers are way better than Boyueda because we can disable the motor braking system.
But yet more testing is needed to stop this beast we've got my favorite hydraulic brakes brand Zoom for me those are one of the best and the most powerful you can find in all Chinese scooters.
The quality is super nice, we've got even this movable hose where is the hydraulic fluid.
I am glad to see those over here because this beast is quite powerful and we need some good brakes even this brake lever feels good honestly.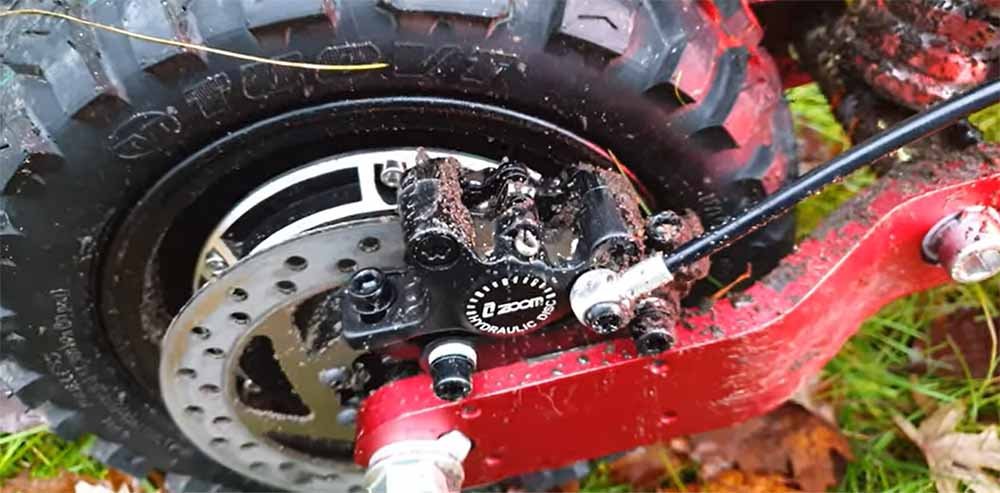 We've got a standard folding mechanism.
We can fold the steering bar in half and increase or decrease the height of the steering steam bar by using this lever.
The suspension system actually is one of the best suspensions on the market, especially that we've got this red shock at the back, which is super soft and makes the whole ride super smooth you don't feel any bigger or smaller holes.
Just don't forget to lubricate all those moving parts and this is literally the best suspension you can find in all Chinese scooters.
The front fork is better than in Boyueda and it is super rigid.
In Boyueda one, you can hear and feel some cracking noise from the fork, because when the fork was stretching it just made this sound. But over here we've got oil suppressors which are working so the rebound is much slower.
So when the fork is stretching, you're doing it much slower which makes the front fork work not only silent but also makes the whole scooter way stable
Light system on the front, we've got two big not very good LEDs. It is basically good only for others to see you, you will not see the road at all only if there are lights on the street you will see where you going. That's why I have placed 2 extra lights.
In the deck on the front, we've got two red lights on the left and on the right side.
Also on the back, we've got two red lights
And above them two brake lights.
On the sides, we've got these led strips which is a bad idea because actually in some countries like Poland, you can get a ticket for this because they've got red and blue lights. And I have to say these LED strip lights are just ugly, the red, blue, and green lights flash alternately, exactly the same as the circus lights.
On the steering bar, we've got standard things.
So, an on-off switch for the lights, blinkers right and left, horn so signal which is loud.
On the right side, we've got ECO turbo and single dual drive switches
Of course standard mini-computer we have two buttons power and the mode two brake levers and one amazing insane phone holder.

This is the best phone holder which I ever use. You have to mount it to this thing and this thing is super stable I did a couple of crazy off-roads, and I never lost my phone so I can recommend this phone holder it was like maybe eight dollars so this is the best deal so far.
So this time we don't have any problems inside the deck because batteries with secured controllers and also cables look super nice, but the front mudguard is scratching the frame. But it can be fixed easily.
But here's a thing that is a little bit worse because the LCD screen is showing lower voltage than actually battery has, so now you can see 64 volts but when I connect that motor to the charging port well so I will see the real voltage of the battery then is around 67 volts.
 This mini-computer is showing like 2 volts less I will investigate it and I will share with you what is wrong in the future.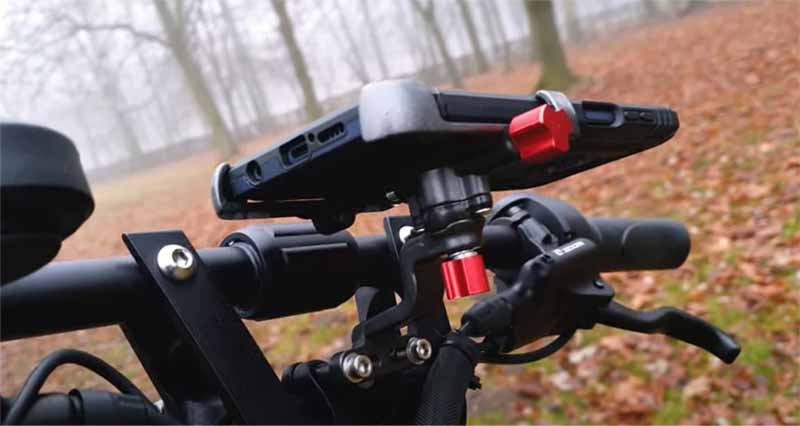 When I was doing the acceleration test, I had no idea how fast it was because I felt I gonna fell down. This beast is too powerful, a little bit of the throttle and the wheels are losing traction, so I recommend using a long breaker when the asphalt is wet.
I think acceleration is the same good or even I could say better than in Yume Y11 plus, so this beast is it could be the most powerful Chinese scooter I tested so far you can see the tracks on the road and the wheels just all the time lose traction.
Charging time takes about 19hours from zero to hero (full charge) with one charger.
Now if you use both stock chargers expect the half time around 9-10hours
If you use a fast charger 5A expect around 6-7 hours from empty.
So you have to think very well about what distance you want to cover so you have time to charge it afterward.
1000km Experience with Laotie Ti30
So far I have taken it everywhere, reaching 1200 km distance and it doesn't have any issues yet, only one charging plug is not charging from the two that it has.
The battery will take you very far away, now if you push it to the limit expect to make around 50km no matter what terrain you will drive it including cliffs or not.
The suspension that this scooter has is amazing, you will not feel anything on the road no matter how big the bump is or how bad the road is.
The place I live has very bad roads and still this scooter doesn't seem to have any issue at all you will not feel any vibration from the road anomaly that's for sure.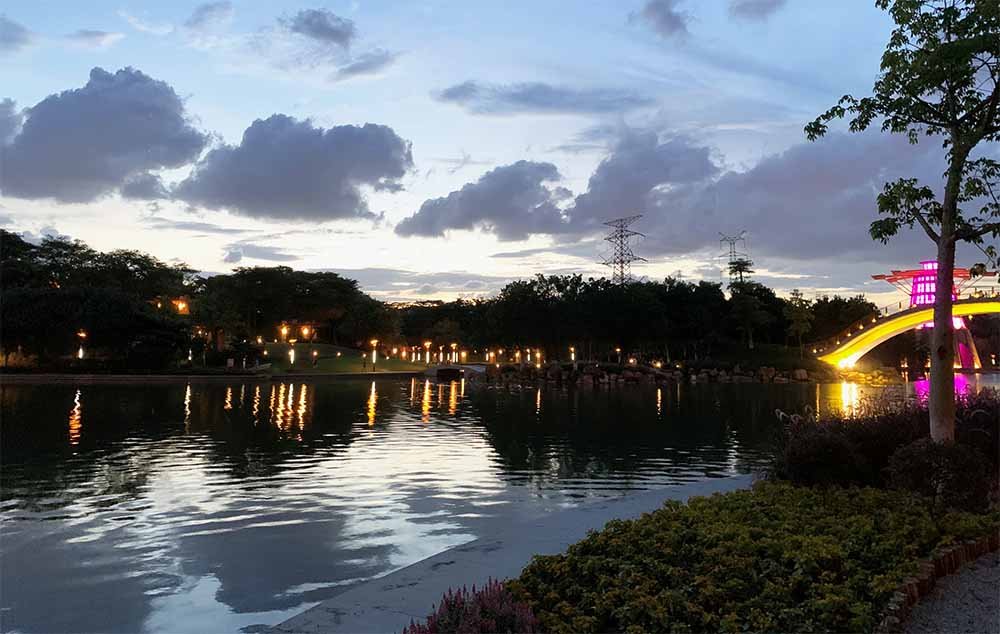 I have to say, at the same specs, a more brand scooter you have to pay if not triple the money for sure double the money.
Some people say this scooter is a Chinese scooter, well every scooter is from China with very few exceptions.
But even if something doesn't go well with this scooter and an issue comes up. The motor has 160 euros, the flash is at 15 euros, what I'm trying to say here is that the parts are cheap.
Of course, if the battery comes up with an issue then we gonna cry because it's the most expensive part of the scooter.
So, in general, I'm very satisfied with this purchase, for the reason that I took it, it's doing what it needs to do very well.
In time we will know for how long it will keep doing its job well.